Samsung Galaxy A50 (S506DL)
Samsung Galaxy A50 (S506DL)
is rated out of
5
by
74
.
SPEED 802.11 a/b/g/n, 2.4 GHz, Bluetooth v5.0
USAGE TIME up to 25 hours
DISPLAY 6.4'' FHD Super AMOLED - 2340 x 1080
STORAGE 4GB RAM - 64GB ROM
CAMERA Triple 25MP main camera + 5MP + 8MP Camera / 25MP Front Facing Camera
DIMENSIONS 6.24'' x 2.94'' x 0.30'' inches
Introducing the Samsung Galaxy A50
Designed for the way you live, the Samsung Galaxy A50 is the smartphone you've been looking for. Go all day and into the night with a high-capacity, long-lasting, fast-charging battery. Capture life's moments exactly the way you want to remember them with the Galaxy A50 multi-lens camera. And elevate your entertainment experience with a vibrant 6.4'' Infinity Display that delivers a clear, edge-to-edge view.

In the next step, you will have the option to bundle your Phone with one of our no-contract plans.
A Service Plan card is required for activation. Plans are not returnable or refundable. Service Plan card is required for activation. Text SAS506DL to 611611 for mobile tutorials.
---
Rated

5

out of

5
by
lazycrowns72302
from
Samsung Galaxy A50
I have not had this phone for very long and not sure how to rate it. I had a Moto Z Droid before this, so there are a few features that I am used to that are not on the Samsung Galaxy A50, but I am adjusting! The fingerprint doesn't work, but I think it is the screen protector and will be changing it out soon to find out if that is the issue. I do like the face recognition tho, so may not need the fingerprint anyway, we will see. Otherwise, overall the phone is very nice, bigger screen then the Moto, lighter then the Moto and the sound is better than the Moto. So, in other words, I am very satisfied with the Samsung Galaxy A50 so far.
Date published: 2020-08-29
Rated

5

out of

5
by
Chergirl
from
LOVE THIS A50!!!
I have owned an S7 for the last 3 years. Hated that it had no storage, and when adding an SD card, STILL had issues with storage. Bought the A50 on a whim, as it has MORE storage and bigger size, which I wanted. I LOVE this Cell! Performs like a champ, and hasn't disappointed me. Even though the camera is NOT was fancy as th S7, it has AWESOME performance and editing options. I use it on the run, as we UTV in the woods we live in, and capture great shots on the fly. I do not have a screen protector on the front, and wish the Gorilla Glass was the 4 version, instead of the 3....and trying to be more cautious that with the S7. I did buy a good, sturdy double edged case, and it beefs it up a lot!
Date published: 2020-09-30
Rated

5

out of

5
by
Will0585
from
An amazing phone with an amazing battery
I currently am on Total Wireless here in the USA I've only had the Galaxy A50 for about 2 days and normally I'd wait for a week or two before doing a so-called review, but I've had plenty of Samsung phones and they're pretty much the same in terms of the U.I and stuff. And I'm coming from the Galaxy A10e and that phone totally sucks. Camera and battery and processor and everything else. Not good. The A50 offers quite a bit for me personally. The 25MP cam in the front and back offer really awesome quality. More-so the back camera. When video chatting with my girl on WhatsApp she said I looked really good and very clear and sounded just fine. Took some pictures with the rear 25MP shooter and pictures look beautiful and super clear and vivid. A lot of people are overly critical of certain phones and their cameras and how fast they expect them and stuff. And a lot of people say the A50's camera isn't that good it's only ok and the phone is only and blah blah blah. Look when you've had more expensive phones that have nice cameras and then you get something cheaper, of course you're gonna be extra harsh because it's a cheaper phone and not something more expensive. I've never owned a $300 phone before only the cheap prepaid phones. And on TW the A50 is $300 prepaid and to me I'm used to spending $100 or so and thats it. So for me the A50 and everything that comes with it is a real treat for me. And I have the 64GB version not the 128GB unlocked one. Out of the box it comes with 48.1GB or so of internal storage left over for the user. And also comes with android 9.0 out of the box but I got an update that got it to android 10.0 I love it. I love the cameras. I love the videos the phone takes. It also does NFC and Samsung Pay but I dont use any of those so Im not worried but some people will like that it has those options. The Always-On-Display is VERY nice to have so you don't have to worry about pressing the power button to see if you missed a call or text or whatever. Battery life is absolutely amazing. it's May 17th 2020 and yesterday being the 16th of May I had the phone on from about 8:15am til about 11:00pm or so at night here in the North East and the battery was at about 28% and I hadn't charged the phone so battery life is excellent. Also the 4GB of ram and the 2.3+1.7 Octa-Core processor works flawlessly and havent had any slowdowns or anything. One down side though that needs improvement is the in-display fingerprint sensor. A nice added bonus but it works only maybe 40-50% of the time and when it doesnt work you have to then turn to the alternative way which is your pin or whatever you use to get into the phone. Otherwise this is an amazing phone. Too many features to talk about. Call quality is awesome people could hear me VERY clearly no issues. OH and when you go into the phone app to call someone there's a thing called Places to the right side of the options and the phone takes your location and shows you the different stores and restaurants and other places that are near you and you can see a number to call and maybe message if that place supports that messaging function. VERY cool. Signal quality is VERY good. Unless you live in a bad area where signal quality will suffer, I'm getting decent LTE bars. Video chats are very clear for me. So I'm very happy with my phone. I'm not so judgmental and mean when it comes to the cameras and stuff. Some people just get too picky with things some times. Anyways just too many features to go over. I totally LOVE my A50. Best $300 I ever spent. Oh ONLY downside I've seen is the new 2.0 U.I. is a bit slow some times but no prob I'm getting used to it. And the in-display fingerprint sensor is a hit or miss. Isn't always accurate and you will have to make sure you have a Pin code or a password or something else to unlock your phone in case the phone locks you out from not being able to unlock using the finger print sensor.
Date published: 2020-05-17
Rated

5

out of

5
by
Gregory M
from
Great cell phone!
Had it 2 months and it has exceeded all of my wishes. Exvellent operation with a fast and reliable processor and operating system. Superior camera images and video with great color and saturation as well as good image stabilization. Screen size good for extensive viewing. HD clarity and quality video streaming, YouTube, playback, etc. Overall outstanding cell phone!
Date published: 2020-08-31
Rated

1

out of

5
by
mistfreed
from
this phone is horrible
I purchased this phone in July to replace a Motorola G4Plus BYOD phone. the specs were almost identical and Samsung was supposed to be a great brand. Well, the phone is awful. It's super slow (even on wifi) and the cellular data is pathetic. It has practically no service in areas where the Motorola works fine. I've done factory resets & updates, all for nothing. I had to switch back to the Motorola because I need my phone to actually work. I also tried to contact tech support...they told me to restart the phone. thanks for nothing ! This phone is nothing but an overpriced disappointment...it's going up for sale on EBay. That's all it's good for. Don't believe the hype.
Date published: 2020-11-11
Rated

5

out of

5
by
cody west
from
good phone very great service big phone more storage
Date published: 2020-07-09
Rated

5

out of

5
by
Susie Q
from
Love the size
I recently bought this phone, and I love it. I had a Samsung Galaxy for years, and paid alot of money for it. The price on this phone was incredible, and I'm so happy with this purchase.
Date published: 2020-09-27
Rated

4

out of

5
by
Selly
from
Great
I bought this month's ago am so happy for that thanks
Date published: 2020-08-07
Specifications
SIZE 6.24'' x 2.94'' x 0.30'' inches
STANDBY TIME Standby time up to 13 days
WEIGHT 168g or 5.92 oz
BAND (FREQUENCY) CDMA | 4G LTE
INCLUDED BATTERY Non-removable Li-Po 4000 mAh battery
HEARING AID M3/T3
TALK TIME up to 25 hours
What's in the Box?
Includes Galaxy A50 Phone
Charger
Battery
Activation Card
Services Guide and Quick Start Guide.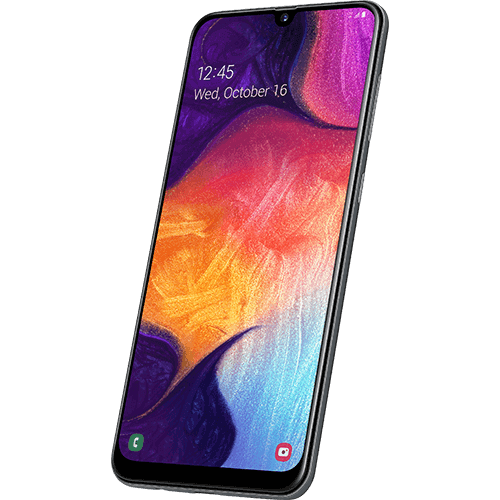 A Service Plan card is required for activation. Plans are not returnable or refundable. Service Plan card is required for activation. Text SAS506DL to 611611 for mobile tutorials.
WARNING: Reproductive Harm - www.P65Warnings.ca.gov
More features
RAM:
Memory - 4GB RAM / 64GB ROM - Expandable up to 512GB
CAMERA:
A camera for any occasion - Capture images in their entirety, shoot vibrant low-light photos, and take flattering selfies.
BATTERY:
Long lasting. Fast charging - Go longer with an all-day battery, and power up quickly with Fast Charging.
DISPLAY:
See more on an expansive screen - Upgrade your view with a brilliant 6.4'' Super AMOLED display. Plus, the large Infinity Display goes edge-to-edge, so you'll never miss anything.
We are sorry but this device is not available currently!
Please add your email and we will notify you when this device can be purchased: SUBMIT
*TETHERING TO ANOTHER DEVICE IS PROHIBITED. OTHER LIMITATIONS APPLY. Please refer to your terms and conditions.