LG Stylo™ 3 (L84VL)
is rated out of
5
by
42
.
Availability: Out of Stock
Please select a payment option.
SPEED 4G LTE/Wi-Fi®
USAGE TIME Talk time up to 20 Hrs
DISPLAY 5.7'' Touch Display
STORAGE Internal Memory up to 16 GB (device only)
CAMERA 13 MP Camera/5 MP Front Facing Camera
DIMENSIONS 6.13'' (H) x 3.15'' (W) x 0.29'' (D) inches
Creativity Gets Down To Business.
Let's get in touch with our inner artist. Let's get in touch with our inner engineer. Let's do both with one device. Whether you're a right-brainer or lean to the left, the LG Stylo™ 3 is built to capture everything you do and more. We've got being creative down to a science.

In the next step, you will have the option to bundle your Phone with one of our no-contract plans.
Service Plan Required for Activation. Plans are not returnable or refundable. Text LGL84VL to 611611 for mobile tutorials
---
Rated

4

out of

5
by
jceab4
from
So far, so good.
For a budget phone, this one rocks, plain and simple. I've had an LG before and my biggest issue was the battery life. Not with this one. Another attractive point is that this phone comes with Andriod 7 right out of the box. I also researched all of the specs(processor, memory, etc.) and for the price, I couldn't go wrong. Everything seems to run smooth and seamless. The only knock on this phone is its construction. The shell is mainly cheap plastic, but what would you expect for a budget phone? This is rectified by purchasing a case. Just make sure the case fits this specific phone. Overall, I'm impressed with this phone so far and I would consider this to be money well spent.
Date published: 2018-01-04
Rated

5

out of

5
by
Midnight 77
from
Absolutely great phone.
I've always been a galaxy user, and not an apple fan, so short on cash I decided to buy this LG stylo3. I don't know why I spent all that money on galaxy phones. I love the galaxy, but they are expensive. This phone has the same android software as the new galaxy and works just as good. No problems what so ever. Great screen and camera. Unless u just are buying the phone status symbol. This phone is the way to go. The big screen is a major plus. The battery life is great. I've never ran it out in a day. I mean I guess u could if u watched tv all day long. But just surfing the web and phone calls I bearly use 50%. [This review was collected as part of a promotion.]
Date published: 2018-01-02
Rated

5

out of

5
by
MaryChev
from
Affordable with great features!
I had a Stylo 2 and switched to another brand. Recently I was able to get this Stylo 3 and I haven't been disappointed. The phone is very responsive, great security features, large screen with the ability to change font size and style; wish it had more styles to choose from. The phone seems to be sturdy, I seen very hard on my phones and this one hasn't skipped a beat so far. The stylo 2 held up to my abuse also. The phone is well made, great quality. I am very pleased with my purchase and look forward to what LG had in store for the stylo 4 in the future! [This review was collected as part of a promotion.]
Date published: 2018-03-12
Rated

5

out of

5
by
Dane
from
Great budget phone
Got this for my son and it's great. It's responsive and doesn't freeze up like the ZTE Blade max x he was previously using. It has a decent screen, android nougat and it just plain works. He loves the stylus too. Would get another for my other son.
Date published: 2017-12-05
Rated

4

out of

5
by
ChiChi
from
Doesn't Phone Have 13mp Camera?
I think TW is mistaken posting that the phone has an 8mp camera. I think it has a 13mp CAMERA. Correct me if I am wrong.
Date published: 2017-12-29
Rated

5

out of

5
by
Sizzle87
from
Amazing functionality
I've had this phone for about 2 weeks and I love it. The battery lasts anywhere from 17 - 18 hours and everything loads so quickly plus the screen is crystal clear and the pictures come out just the same. [This review was collected as part of a promotion.]
Date published: 2017-10-22
Rated

1

out of

5
by
Mitch777
from
Poor camera
The camera on this thing will NOT Take a sharp picture. I am a professional photographer but do not have high expectations from a cell phone. The 13MP camera on the back is literally incapable of taking a sharp picture. WARNING: they WILL be blurry, every, single, time. I have tried mounting this thing to a tripod and took a still of a table that was 3 feet away, blurry. Multiple reviews will tell you that it is blurry regardless of conditions. 13MP file size is great, but the lens the used must be garbage, because the 5MP camera on the front takes better pictures than the 13MP on the back. You have been warned!
Date published: 2020-01-07
Rated

3

out of

5
by
Scooter Cat
from
So-So
I have been using this phone for about 4.5 months. The Good: I like the large screen. It's nice and responsive, even with a tempered glass screen protector on it. Sometimes a little TOO responsive, though, especially with it being an edge to edge screen. :-/ The storage capacity, both internal and the size of microSD card it will accept, is great. And THANK YOU Total Wireless/TracFone for putting a minimal amount of non-removable bloatware on the phone!! This phone has the least amount of bloatware of any smartphone from any carrier that I've ever used. I'm also very impressed with the battery life of the phone. This phone has the longest battery life of any smartphone I've ever owned. Add to that the fact that the battery can be replaced and brand new OEM batteries can be purchased very inexpensively, and you get an unlimited battery life. The Bad: I'm very disappointed with the rear camera. The quality of the photos is nowhere near as good as the photos I took with my Moto 3G and Galaxy J7, which also have 13 MP rear cameras. The Ugly: 1. Why, oh, why has LG not gotten rid of the intrusive, disruptive, annoying in-call timer in their dialer/contacts app?! They need to read help forums and reviews across the internet, because that ridiculous and unnecessary thing that can even completely prevent other apps from working is pretty much universally despised by LG phone users. I've seen tons of help forum threads on various sites where the masses of LG phone users are trying to find a way to get rid of that thing. It's like a virus because it still shows up when you use a 3rd party dialer/contacts app with this phone. It's a deal-breaker for me. If LG does not remove it or include an easy to find way for the user to disable it, I will never, ever, for all of Eternity, use another LG phone. 2. The stylus is a piece of junk. After about a month of moderate use of the stylus for email, text, and word, slots, and bingo games, the carbon fiber tip of the stylus had shredded wide open to the point of the core being exposed. So it is completely unusable because of the damage it would cause to the screen protector and screen. Why include a stylus and make that the marketing focus of the phone, if the stylus is so cheap and junky that it barely lasts a month?! Thanks for nothing on that one, LG!! Despite the good features, I do not recommend this phone.
Date published: 2018-05-31
Specifications
SIZE 6.13'' (H) x 3.15'' (W) x 0.29'' (D) inches
STANDBY TIME Standby time up to 13 days
WEIGHT 5.3oz.
BAND (FREQUENCY) Technology: CDMA, LTE
INCLUDED BATTERY Battery Capacity: Li-Ion 3,200 mAh
HEARING AID M4/T4
TALK TIME Talk time up to 20 Hrs
What's in the Box?
Includes Charger
Battery
Activation Card
Services Guide and Quick Start Guide.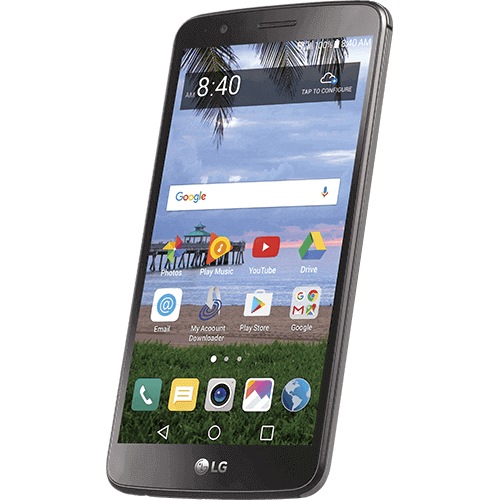 Service Plan Required for Activation. Plans are not returnable or refundable. Text LGL84VL to 611611 for mobile tutorials
WARNING: Cancer and Reproductive Harm - www.P65Warnings.ca.gov
We are sorry but this device is not available currently!
Please add your email and we will notify you when this device can be purchased: SUBMIT
*TETHERING TO ANOTHER DEVICE IS PROHIBITED. OTHER LIMITATIONS APPLY. Please refer to your terms and conditions.