Samsung Galaxy S7 (G930VL)
Samsung Galaxy S7 (G930VL)
is rated out of
5
by
9
.
Availability: Out of Stock
Please select a payment option.
SPEED 4G LTE/Wi-Fi®
USAGE TIME Talk time up to 28 Hrs
DISPLAY 5.1'' Quad HD Screen
STORAGE Internal Memory up to 32GB (device only)
CAMERA 12 MP Dual Pixel Camera
DIMENSIONS 142.4 x 69.6 x 7.9 mm
Big on screen and small on profile, the Samsung Galaxy S7 is the smartphone your life can't do without.
Featuring a Quad HD Super AMOLED display, the Galaxy S7 has an eye-popping picture you'd expect from Samsung. And, just as impressive, the big screen fits on an incredibly slim design. Fully immerse yourself in movies, games and more. The Galaxy S7 is IP68-rated, which means it can repel spills, splashes and even dunks¹. Just wipe off your phone and keep going. The first smartphone with dual-pixel technology features faster autofocus² so you can say goodbye to blurry photos. And the new advanced camera sensor catches every detail, even in low-light. Stop waiting around for your phone to charge. With fast wireless charging³ the Galaxy S7 powers up from 0 to 100% in no time. And with our biggest battery² the ultra-slim Galaxy S7 gives you the power to keep going.
In the next step, you will have the option to bundle your Phone with one of our no-contract plans.
A service Plan card is required for activation. Text SAG930VC to 611611 for mobile tutorials.
---
Rated

2

out of

5
by
Zak P
from
Product Name Misleading
I am enjoying my Galaxy S7 TRACFONE... Yes, Tracfone! This is NOT a normal Galaxy s7 and I am very irritated by that fact. Had I known this was a tracfone and not a normal galaxy phone when I bought it, I would not have cared. It wasn't until I just tried to use hotspot and found my phone didn't have it that I found out this was actually a tracfone model. If you wan't all the galaxy features, get a different non-tracfone phone. Other than that, I am actually enjoying my phone and it does run well, just wish it had all the features I expect it would have that are pretty much a standard after the S5 line.
Date published: 2020-05-30
Rated

4

out of

5
by
Sherman D
from
Excellent Phone!
The phone was purchased about a year ago, and I have no bad things to say about it. It's only running Android 8.0 (so if you need the latest Android version, don't get this phone), but it doesn't lag (yet). I have no issues with output, speed, volume, picture quality, or anything else. The only issue I have is the phone does tend to get hot, and loses battery charge quickly (but I do keep my brightness up and play a lot of games). So that might be mainly user-based, not a fault with the phone. All-in-all, I'm very satisfied with this phone.
Date published: 2020-04-14
Rated

2

out of

5
by
Al_Bert
from
Phone works well now but cannot use hotspot!
Just like the other reviewers here, I recently noticed that I cannot use this phone as a hotspot because it is a Tracfone. This is unacceptable as my old Samsung S5 from Total Wireless worked as a hotspot without any issues. I also had to send the S7 phone in to Total Wireless despite it being advertised as new due to the battery draining within 24 hours even if I did not use the phone. They sent the phone back and now the battery lasts much longer, but it is still disappointing since I sent the phone in with the original box and all accessories and received the phone back in a generic cardboard box without half of the accessories (looked like it was a refurbished phone instead of new).
Date published: 2020-06-20
Rated

1

out of

5
by
Norman
from
Does NOT support Hotspot
I bought this to "upgrade" my S5 hoping I would be able to have the hotspot feature. Unless I find a fix for this, I will be returning the phone and buying a new battery for my S5. FYI, the S7 does not have a removable battery. Wireless charging is nice.
Date published: 2020-03-20
Rated

3

out of

5
by
BrAnnLeslie
from
No Hot Spot
The phone has been great . . . until I tried to use it as a hot spot on a road trip. :( Online manuals indicate that it should be available in Setting, but it's not. This is a HUGE bummer for me. I contacted Total Wireless support as well as Samsung support and both were under the impression that it should be available, too - but it's just not there.
Date published: 2020-05-29
Rated

2

out of

5
by
Lizmc
from
Horrible battery life
This phone's battery dies really fast. If I take it to work and just text and a few phone calls and do a little one the internet by 1 I have like 15%!! And it gets really hot while using!!! Sadly just bought it and looking for a new one. I bought it for its picture taking but with the battery dying so fast its not worth it bc its dead when I need it.
Date published: 2020-04-21
Rated

2

out of

5
by
PRG_NC
from
Get a case before you use it. It is SO SLIPPERY.
I wanted a reasonably priced water resistant phone. I had a Galaxy S5, and had been happy with it so this seemed a good option. But this phone is SO SLIPPERY, I was continuously dropping it. I couldn't find a case locally or on TW so had to order online from another vendor, and it was delayed due to the current COVID19 situation. Within 3 weeks I destroyed the display due drops, it was constantly slipping from my grip. Case should be delivered later this week though lol. Overly sensitive screen for my taste too.
Date published: 2020-05-10
Rated

1

out of

5
by
Christine L
from
security patches no longer being made
I have had my s7 for almost a year and the last software update was sept 2019 and there are no more coming this phone should no longer be offered period. with no forthcoming security patches or software updates it leaves your personal information easy to steal.
Date published: 2020-07-30
Specifications
SIZE 142.4 x 69.6 x 7.9 mm
STANDBY TIME Standby time up to 4.5 days
WEIGHT 5.2 ounces (with battery)
BAND (FREQUENCY) Technology: CDMA/LTE - Wi-Fi 802.11a/b/g/n/ac Wi-Fi with MIMO
INCLUDED BATTERY Li-ion Polymer 3000mAh fast wireless charging³
HEARING AID M4/T3
TALK TIME Talk time up to 28 Hrs
What's in the Box?
Includes Charger
Battery
Earphones
Activation Card
Micro USB OTG Adapter
Services Guide and Quick Start Guide.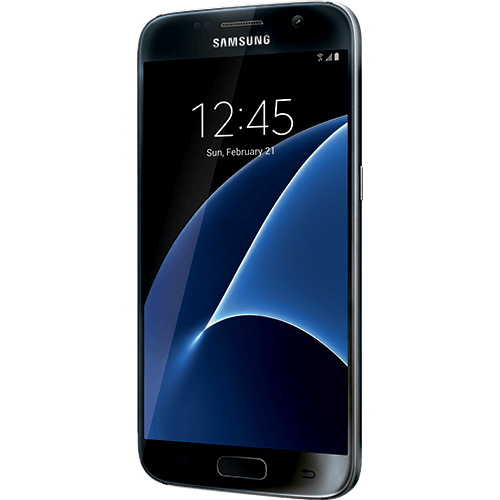 A service Plan card is required for activation. Text SAG930VC to 611611 for mobile tutorials.
WARNING: Reproductive Harm - www.P65Warnings.ca.gov
More features
4G LTE/Wi-Fi connectivity:
There are so many ways to connect with the Samsung Galaxy S7. Use the lightning-fast 4G LTE data, join a nearby Wi-Fi network, or pair your device to Bluetooth.
32GB storage:
With a massive internal memory, this phone can handle all the photos, apps, and files you throw at it. You can also install a microSD™ memory card to add more space.
12MP dual pixel camera:
You don't have to be a professional photographer to take gorgeous photos. The 12MP rear and front-facing cameras do all the work for you.
3000 mAh battery:
Compared to other Samsung phones, this battery is big. That means more time to talk, text, and browse throughout the day. The S7 is also compatible with fast wireless charging. Shop chargers.
5.1-inch Quad HD Super AMOLED™ display:
Stylish and sleek, the touchscreen display on this phone ensures every image has crystal-clear quality.
We are sorry but this device is not available currently!
Please add your email and we will notify you when this device can be purchased: SUBMIT
*TETHERING TO ANOTHER DEVICE IS PROHIBITED. OTHER LIMITATIONS APPLY. Please refer to your terms and conditions.