NEW iPhone SE 64GB - BLACK
NEW iPhone SE 64GB
is rated out of
5
by
339
.
SPEED Gigabit-class LTE with 2x2 MIMO and LAA
USAGE TIME Video playback: Up to 13 hours | Video playback (streamed): Up to 8 hours | Audio playback: Up to 40 hours
DISPLAY 4.7-inch Retina HD; 1,334x750 pixels
STORAGE Internal Memory: 64 GB
CAMERA 12-megapixel | Front-facing camera 7-megapixel, 1080p HD video recording
DIMENSIONS 5.45 x 2.65 x 0.29 in | 138 x 67 x 7.3 mm
Let there be light. And shadow. And contour.
We put the brains of iPhone 11 Pro in the body of iPhone SE. A13 Bionic is the fastest chip ever in a smart phone, period. So everything feels fluid, whether you're launching apps, playing the latest games, or exploring new ways to work and play with augmented reality.
The advanced camera system with A13 Bionic brings you Portrait mode, which artfully blurs the background to put the focus on your subject - even when you're taking selfies.
In the next step, you will have the option to bundle your Phone with one of our no-contract plans.
A Service Plan is required for Activation. Plans are not returnable or refundable.
Legal:
¹Data plan required. LTE Advanced and LTE are available in select markets and through select carriers. Speeds are based on theoretical through-put and vary based on site conditions and carrier. For details on LTE support, contact your carrier and see www.apple.com/iphone/LTE.
A Service Plan card is required for activation. No Contract, No Credit Checks. Plans are not returnable or refundable.
iPhone purchases are limited to a maximum of 2 per order.
Technical Specifications:
Go to www.apple.com/iphone-se/specs/ for a complete set.
---
Rated

4

out of

5
by
Mattboli
from
It's pretty quick!
I bought this a couple of weeks ago, and glad I did. It's the very first iPhone I've ever owned so far, so good! Pros: I love the speed and how easy it is to navigate. Also being a 64 gig is the largest memory for any phone I've ever had before. Cons: the battery doesn't have a long life. I can fully charge in the morning, and will have to plug back in the same evening. Another con, is that it's a very small phone. This is something I'm getting more and more used to everyday. I've always had big bulky phones that are hard to get in and out of my pocket. The size of this one, I'm really starting to like. I love the camera too. Takes awesome pictures!
Date published: 2020-09-28
Rated

2

out of

5
by
Clint
from
Data Connection Issues
Great price for the phone. Unfortunately, the data connection on my wife's phone is very slow. It takes approximately one minute to open a web browser page. I've lost track of how much time I've worked with their tech department to resolve the issue. Total Wireless says that everything is working right on their end. Eventually they said it must be an apple problem and that I should contact them. Apple says it's a Total Wireless problem. I'm left trying to trouble shoot on my own. When it's connected to WiFi it works great though. Of course, it's a mobile phone, which implies that you should be able to take it other places and it function correctly.
Date published: 2020-10-31
Rated

4

out of

5
by
22headshot
from
Good Phone BUT not perfect due to Apple Propriety
Bought this phone to replace the MotoM7 junk, that I sent back to TotalWireless for a refund. It is a good phone but it will you CANNOT make or take phone calls through auxiliary jack on car stereos. You must have Bluetooth. All Android phones can make and receive call through your car stereo's auxiliary jacks but NOT the new Iphones. This is the biggest fault of Iphones. Another thing. Every time you update an Apple product, the update will run your battery out quicker on the older products, even if the battery is good. This is designed, so you get a new Apple product. Planned obsolence
Date published: 2020-10-03
Rated

5

out of

5
by
RLH1
from
First, but not last iPhone!
This is my first iPhone and while there was a bit of a learning curve, I'm finding I prefer it over androids. Phone is fast and intuitive. I like the smaller size. It seems phones are getting bigger over time - if I want bigger, I'll get a tablet or ipad. I like it that it fits in any pocket. Pictures and videos taken with this camera are far superior to any android phone I've had. The battery could last longer, but it gets through the day no problem and wireless charging is fast and easy. I think I'm firmly on the iPhone bandwagon and will continue to buy their products. This phone is a great way to get started as the price is certainly right! Highly recommended!
Date published: 2021-01-04
Rated

5

out of

5
by
Kevin052
from
Worth Every Penny
I have owned my iPhone SE for several weeks now and have been very happy with it. Before the purchase my last phone was an iPhone 6s. My SE has a much better camera than the 6s and features to go with it. I at a diabetic and my new phone allows me to use more apps to help track my blood glucose and carb intake. I wear a CGM sensor (Continuous Glucose Monitoring). It required an iPhone 8 to monitor the CGM which the SE far exceeds. I definitely can recommend the iPhone SE. The price was great too, especially when you compare it to the best iPhones. This phone has a lot of the same components but is a lot easier on the budget.
Date published: 2021-03-13
Rated

5

out of

5
by
JimS
from
Love Phone, but not impressed with Total Wireless
Love the phone (5 Star), but it was an absolute nightmare getting out phones activated with the service. Tech support even washed their hands and walked away because they couldn't figure out how to activate our phones, resulting in no mobile service for 3 days. Not impressed with Total Wireless (1 Star). Went back to Verizon to go back, but then all of a sudden the Total Wireless service started working. Will give it a try for a bit, then decide if staying or moving back to Verizon.
Date published: 2020-12-13
Rated

1

out of

5
by
Anonymous
from
Pretty Crap!
They don't tell you it comes with a useless 5W charger. As worst, a useless 2' power cord to dangle it from the wall outlet. Had to wait 12 hours to fully charge to get about 1 hour of use. not enough to even get thru setup. wont run any software i need. cant use earphones while its charging. it goes on... When you buy an Apple, you buy it twice! Expensive pretty pieces of useless glued together devices that require a suitcase full of new cables, adaptors & peripherals to lug around just to use them. just like their computers! Sending Back!!
Date published: 2020-11-05
Rated

1

out of

5
by
Thomas W
from
More bugs than a termite mound
Everyone told me that iPhone is more stable than Android. A few weeks of using this buggy system convinced me to reactivate my old phone. Bluetooth would not automatically connect when I entered a call, even if the headset is already connected to the phone. The phone would sometimes randomly connect to other bluetooth devices in the middle of a call. I had to force close most of my apps between each task to make them work correctly. Notifications for most of my apps would not appear unless I opened the app, no matter what my settings were. The system was not as customizable as Android. I experience fewer bugs and problems on Android. I will never use iOS again.
Date published: 2021-04-05
Specifications
SIZE 5.45 x 2.65 x 0.29 in | 138 x 67 x 7.3 mm
STANDBY TIME Up to 10 days
WEIGHT 5.22 oz; 148g
BAND (FREQUENCY) CDMA EV-DO Rev. A; UMTS/HSPA+/DC-HSDPA (850, 900, 1700/2100, 1900, 2100 MHz)
INCLUDED BATTERY Built-in rechargeable lithium-ion battery
HEARING AID M3/T4
TALK TIME Video playback: Up to 13 hours | Video playback (streamed): Up to 8 hours | Audio playback: Up to 40 hours
What's in the Box?
iPhone with iOS 13; Lightning to USB Cable; Documentation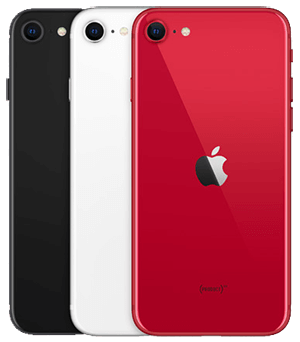 A Service Plan is required for Activation. Plans are not returnable or refundable.
More features
Built for iOS 13. And beyond:
iPhone SE is made to run the latest feature and even some that haven't been invented yet. So you can use Dark Mode, Siri Shortcuts, and the new Photos app now. And take advantage of feature and security updates.
Binge-worthy battery life:
The show must go on. So iPhone SE lets you watch up to 13 hours of video on a single charge. When you do need to power up, just set it down on a wireless charger. Or connect to an 18W fast-charge adapter to go from zero to up to 50% in 30 minutes.
Depth Control:
A simple slider lets you blur the background as much or as little as you like - before or after you take the photo.
Home sweet Home button:
Touch ID lets you securely unlock your iPhone and sign in to apps instantly. You can even use it with Apple Pay to grab a coffee, get a yoga app, or shop for sneakers online. All without reaching for your credit card.
Portrait Lighting:
Choose from six studio quality effects, then adjust the lighting intensity to show your subject in the best possible light.
We are sorry but this device is not available currently!
Please add your email and we will notify you when this device can be purchased: SUBMIT
*TETHERING TO ANOTHER DEVICE IS PROHIBITED. OTHER LIMITATIONS APPLY. Please refer to your terms and conditions.