Samsung Galaxy J7 Crown (S767VL)
Samsung Galaxy J7 Crown (S767VL)
is rated out of
5
by
38
.
Availability: Out of Stock
Please select a payment option.
SPEED 4G LTE/Wi-Fi®
USAGE TIME Talk time up to 24 Hrs
DISPLAY 5.5'' HD TFT Display
STORAGE Internal Memory 16 GB (device only)
CAMERA 13MP main camera - 13MP front-facing camera
DIMENSIONS 6.03'' x 3.00'' x 0.34'' inches
Introducing the Samsung Galaxy J7 Crown (S767VL).
The Samsung Galaxy J7 Crown can enhance your life in so many unexpected ways. It has all the essentials, plus more – all for a great low price. If you're into watching videos or playing games, the large HD display is made for you. For photo fanatics, the 13MP cameras are sure to impress. Music fans love the Samsung Galaxy J7 Crown, too. It comes with 4G LTE/Wi-Fi connectivity for fast streaming and downloading. It's even enabled with Bluetooth, so you can connect your smartphone to headphones or speakers. To personalize your new Samsung Galaxy J7 Crown, start with some accessories, like a phone case or Bluetooth earbuds.
In the next step, you will have the option to bundle your Phone with one of our no-contract plans.
A Service Plan card is required for activation. Plans are not returnable or refundable. Text SAS767VL to 611611 for mobile tutorials.
---
Rated

4

out of

5
by
Gamejunkie592
from
Great phone
I really like this phone. It has great specs at an affordable price. I really like the camera. It has decent battery life. Fast processor. Decent amount of ram but wish it had like 3 or 4 GB ram. It preforms better than I expected for the price. I've had this phone since around late November/ Early December. I'm glad I choose this phone and I got it on sale for under $100 like around $80 plus tax if I remember correctly. I was expecting this phone to be trash but I actually like this device. I would recommend getting a Miro SD card cuz it has 16 gb internal storage but part is used by operating system and other stuff but it's still not bad. I would recommend this device for the specs and affordable price. So far the best affordable prepaid phone I've owned.
Date published: 2019-08-04
Rated

5

out of

5
by
Louis O
from
Great phone at a great price
I bought this one after having owned several phones costing 8 or 10 times more and am very satisfied. Only complain is the fact that the battery cant be removed which is always a concern implicating privacy. Other than that, excellent screen resolution. Great battery life. Excellent photo quality. 13MP front and rear! As for the memory, I have read many customers complaining about the internal storage capacity as being too low. This is easily solved with a micro card. I liked this phone so much that I will buy my mother one for Mothre's Day.
Date published: 2019-04-20
Rated

5

out of

5
by
Jim T
from
Great Camera Phone!
I bought this phone for my wife in the begin of Dec 2018 when it was on sale for $99. The camera on this phone is a 13 mega pixels which takes crisp photos. The OS is Android 8 Oreo and has a fast 8 core processor so you can multitask. My wife said this is the best phone she ever owned. I waiting for it to go back on sale so I can buy one for myself to upgrade from my J7 Sky Pro phone.
Date published: 2019-01-04
Rated

5

out of

5
by
ChiChi
from
Great Build
You will not find a phone better than this one for under a $100. The only issue I have had is the pull down screen has not been as sensitive as I would like. Great camera. Samsung quality. It is a little heavier than the average phone, but not bulky. Easy to use with nice features. It has an AMOLED screen which is in the premier phones. I don't know why anyone would pay for a premier phone, when you get so little more, most of what you would not use. This phone went as far as the J series could go, before adding just a little more that would turn it into a premier phone, and Samsung would have to charge you 6X the amount. That is why there is no J series after 2018 builds. They had to start over with the A series, to prevent it from becoming a premier phone.
Date published: 2019-11-16
Rated

4

out of

5
by
Cody
from
Great Speed and Camera for the Price
It annoys me when people use the product review feature of websites to gripe about a defective product as opposed to taking that situation up with customer service. As of this writing, the only other "review" of this phone is exactly that, a complaint about a defective device; hence my decision to write an actual review of the J7 Crown. I purchased the Crown for my wife, and it serves as an upgrade from the J3 Luna Pro. I'd say the processor speed is about double that of the J3 Luna Pro. It has 2gb of RAM just like the Luna Pro, but the upgraded processor speed makes that a non-issue.The shining feature of the Crown is obviously the camera upgrade. Both the front and rear cameras are 13mp. This is quite extraordinary, considering the Galaxy S8, for example, has a 12mp camera. The Crown's camera shutter speed is quite fast, especially when compared to the Luna Pro. Now, obviously the Galaxy S series has a much higher quality camera, but what the Crown lacks in camera build quality, it obviously makes up for in price point. An additional bonus to the Crown is that yes, it does actually run Android 8.0 Oreo. Overall, for the price, the dual 13mp cameras and faster processor make purchasing this phone a no-brainer if you're upgrading from something like the J3 Luna Pro or J3 Orbit. I gave 4 stars only because 5 stars are reserved for flagship phones, like the Galaxy S8 and S9.
Date published: 2018-12-29
Rated

4

out of

5
by
Al O
from
Good cell
Got this phone to replace my moto 5. As an emergency phone. I am very impressed with it. It does everything i need . Not too much internal memory but has an sd card . I put a 64g for my photos and video. I like that it has a dual band wifi 2ghz and 5ghz. Up to now I'm impressed with the battery life much longer than my old moto 5.
Date published: 2019-03-19
Rated

5

out of

5
by
Rick 70
from
Best cell phone value you'll find
Upgraded to this phone because my Blink camera security system would not work with my old phone. I am impressed, it's a wonderful phone with a great camera. This phone also connects directly with my hearing aids, eliminating other hands free products. Best of all it only cost less than $100
Date published: 2019-04-12
Rated

4

out of

5
by
Rav4_Dad
from
Meets most users needs
My wife and I both have this phone and really enjoy the upgrade from the Samsung J3. Unless you game this phone will perform fantastic. I can generally use the phone all day and still have over 50% charge on the battery, and the camera takes very nice pictures. There's simply no need for the average person to pay hundreds of dollars for a phone when quality models like this are available. Added bonus that you can pick up a relacement same day at Target or Walmart!
Date published: 2020-01-21
Specifications
SIZE 6.03'' x 3.00'' x 0.34'' inches
STANDBY TIME Standby time up to 27 days
WEIGHT 6.38 oz
BAND (FREQUENCY) Technology: 4G LTE
INCLUDED BATTERY Battery Li-Ion 3,300 mAh
HEARING AID M3/T3
TALK TIME Talk time up to 24 Hrs
What's in the Box?
Includes Charger
Battery
Activation Card
Services Guide and Quick Start Guide.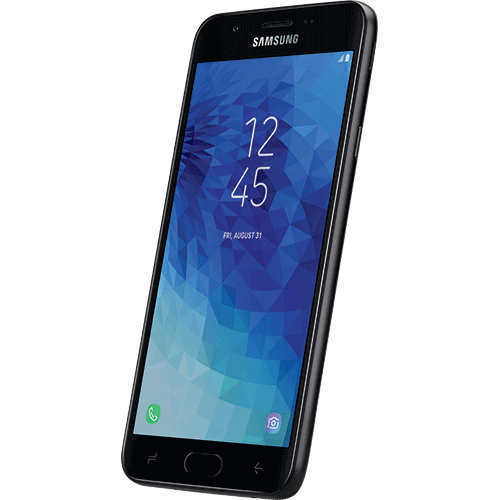 A Service Plan card is required for activation. Plans are not returnable or refundable. Text SAS767VL to 611611 for mobile tutorials.
WARNING: Reproductive Harm - www.P65Warnings.ca.gov
More features
Android™ 8.0 Oreo™ OS:
Samsung uses the Android™ 8.0 Oreo™ operating system to make phones smarter, safer, and faster.
16GB ROM storage:
16GB is a lot of storage for photos, videos, apps, and games. But you can actually increase the storage capacity up to 400GB if needed with the use of a microSD™ card (not included).
13MP cameras:
The selfie camera is just as powerful as the rear camera. After you snap each photo, enhance them with fun stickers and filters before sharing them with friends and family. Both cameras work well in low-light settings, too, for great shots day or night.
1.56GHz octa-core processor:
Games and videos tend to drain the battery life on cell phones. But this octa-core processor helps prevent that, so you can use your phone for longer.
5.5-inch HD display:
The Samsung Galaxy J7 Crown offers endless entertainment. Whatever you're watching or playing, the large HD display makes the moment even better.
We are sorry but this device is not available currently!
Please add your email and we will notify you when this device can be purchased: SUBMIT
*TETHERING TO ANOTHER DEVICE IS PROHIBITED. OTHER LIMITATIONS APPLY. Please refer to your terms and conditions.