Samsung Galaxy Note8 (N950U1C)
Samsung Galaxy Note8 (N950U1C)
is rated out of
5
by
319
.
Availability: Out of Stock
Please select a payment option.
SPEED LTE Cat.16
USAGE TIME 3.9 Days
DISPLAY 6.3" Quad Display
STORAGE Internal Memory: 64 GB/128, 6 GB RAM
CAMERA 12MP Dual Rear Camera
DIMENSIONS 162.5 x 74.8 x 8.6 mm
Samsung - Galaxy Note8 64GB - Midnight Black
Galaxy Note8 is built to help you create, make, and do everything better. With a smarter S Pen, our largest Infinity Screen and our best camera yet, Galaxy Great gives you more ways to create, share, and express your ideas than ever before.
In the next step, you will have the option to bundle your Phone with one of our no-contract plans.
A Service Plan is Required for Activation. Plans are not returnable or refundable. Text SAN950U to 611611 for mobile tutorials.
---
Rated

5

out of

5
by
Essentialelementz
from
Absolutely Amazing
[This review was collected as part of a promotion.] Extremely happy with my Note 8. I liked it so much I bought 2. Samsung did include a few nice gifts that I'm very happy with. A few words of caution though: Don't even open the box without having a screen protector and something to protect the back of it. I had mine out for just a few days unprotected and the rear glass scratched significantly on all 4 corners and the plastic around the camera cluster from only laying it on my Formica top night stand. Also the metal bezal was dinged from a minor drop in my vehicle. So in my opinion it is a delicate device. All in all it is an amazing device and I highly recommend it.
Date published: 2017-10-25
Rated

5

out of

5
by
BHJay
from
Very Impressive, Beautiful Phone!
So far the Galaxy Note8 phone has exceeded my expectations. I upgraded from a Galaxy Note 5 and was concerned about the additional weight and length of the phone. Honestly, I don't even notice the extra weight or size. The screen is beautiful! It is very fast and has great personalization and security options. The placement of the fingerprint reader doesn't bother me, even though it is different than the Note 5. Love the option to write on the locked screen too! Transfer of files and apps from my old phone went seamlessly using "smart switch" and Samsung has included useful adapters and great headphones right inside the Note8 box. I love this phone!
Date published: 2017-12-12
Rated

5

out of

5
by
Android1126
from
Best phone engineered and designed to date.
[This review was collected as part of a promotion.] Though, I fell in love with my initial Note 7, I am beginning to fall in love with my Note 8. The Infiniti display is quite amazing in it's own right, and the phone is feature packed. I should also add, that I am a power user, though have not out this phone to the test......yet. So far, battery life has been an easy 2-2.5 days of charge. I've had this phone for 5 days, and have only charged it twice. Other than that, it fits great in the hand (better than the S8 Plus, in my opinion). Love playing with this phone as I acquaint myself with it's many options, settings and features.
Date published: 2017-09-12
Rated

5

out of

5
by
Leonidas4ever
from
The Note legacy is on...
I had the Note7 and even though I didnt have an issue with it I had to return it (but I was able to cover a trip to cambodia where video & photos still wow my friends) thats the past . Yesterday I received with a WEEK in advance the note 8. totally xtmas came earlier since Im going in a trip to India & Planning to do the same. Ive been playing with the features & its just impressive: Super fast, LOVE the versatility of the pen that its getting better with every model. too much to say in few lines, but if you are familiar with the Note family, you wont be disappointed at all, Now playing with the two apps at the same time in a split screen, simplifies your time it doesnt matter if its for business or just browsing the net.
Date published: 2017-09-09
Rated

4

out of

5
by
cohenation
from
That Bixby Button
Great phone, great camera, but after over 8 years of Samsung loyalty, this would likely be my last purchase. Not being able to remove battery I thought was very disappointing. Then Samsung introduced the worst feature in the world......a bixby button. This structural bloatware is conveniently located underneath the volume you button, so you can torture yourself by inadvertently opening Bixby all the time. Super annoying to the point where I am contemplating returning the device. If however you had the option to make this button open whatever you want.....then the product goes from failure to very good.
Date published: 2017-10-23
Rated

5

out of

5
by
Tribian
from
The most versatile phone that simply serves the diverse audiences
Having a phone that is good at everything is a rare feat. Graphic Design with a high-end stylus and fully-powered supported apps, Studio caliber DAWS app that serves the most musically inclined, AMOLED display and high-end GPU with 6GB of Ram for the Gamer on the go, and a professional camera lens and high frame rate for the inspired photographer or director/creator. With the freedom of thematic changes with the GUI, Icons, Always on display options, and long battery life; there really is not a better phone on the market. I am proud to be a Samsung Note 8 owner.
Date published: 2018-05-22
Rated

3

out of

5
by
Graffit
from
Awesome phone but....
I have been using a cell phone since 2000 and have never ever cracked a phone screen nor phone body until my Note 8. Don't get me wrong, I love samsung phones especially note series BUT as an engineer, I really don't understand how Samsung NOTE 8 passed all drop and reliability testings. I put my phone into a spigen hard case right after removing it from the samsung box and never dropped it but somehow back cover glass cracked around the power button(maybe I put it down too hard ;). I hope the screen is not that fragile, if it gets cracked like that, no more samsung phone for me. Other than this BIG flaw, the phone is fine, it works beautifully.
Date published: 2018-06-29
Rated

2

out of

5
by
washerebefore
from
Note 4 is Better in some ways and it should not BE!
First Samsung rewards makes things too hard to get what they promise. Phone is way too expensive and then denies your promotion. Samsung made this phone look like a candy bar where the NOTE 4 is a lot wider. Have a Nexus 6 and Note 4 - they have it right! Curved SCREEN SUCKS on NOTE 8! Pros: FAST AND IT WILL get Oreo this Jan 2018. It turns on. battery so far so good. display is clear. Cons: Bixby and Bixby Button should be made a back button with out an app, phone needs to be wider!, Keypad on NOTE 4 1000's times BETTER than Note 8's , over priced phone, NO IR built in, (why am I forced to keep my NOTE 4 with me still!!, No stereo speakers, camera is just OK
Date published: 2017-11-18
Specifications
SIZE 162.5 x 74.8 x 8.6 mm
STANDBY TIME 3.9 Days
WEIGHT Galaxy Note8 195 g/ S Pen 2.8 g
BAND (FREQUENCY) Wi-Fi 802.11 a/b/g/n/ac (2.4/5GHz), VHT80 MU-MIMO, 1024QAM, CDMA
INCLUDED BATTERY Non-removable Li-Ion 3300 mAh battery
HEARING AID M4/T3
TALK TIME Talk time up to 22 Hrs
What's in the Box?
Includes Device with S Pen
Tweezer and Pen Nibs
USB Power Adaptor
Micro USB OTG Adapter
USB Connector (USB Type-C)
USB Cable
Ejection Pin
Earphones
Activation Card
Services Guide and Quick Start Guide.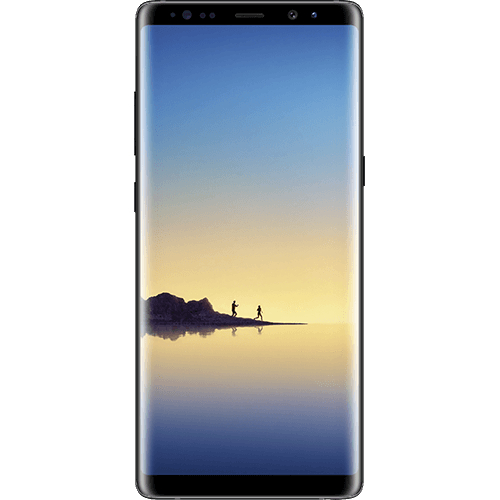 A Service Plan is Required for Activation. Plans are not returnable or refundable. Text SAN950U to 611611 for mobile tutorials.
WARNING: Reproductive Harm - www.P65Warnings.ca.gov
We are sorry but this device is not available currently!
Please add your email and we will notify you when this device can be purchased: SUBMIT
*TETHERING TO ANOTHER DEVICE IS PROHIBITED. OTHER LIMITATIONS APPLY. Please refer to your terms and conditions.